March 2016
It's been a while since we've updated this! Don't hold it against us! We have a new member!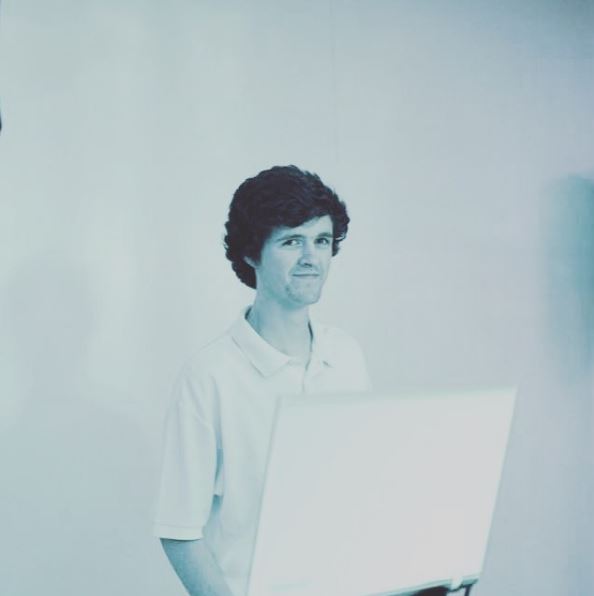 Big hello to James Bulled, our youngest guy at just 19! We'll show him the ropes though, he's in good hands! We hope for a great time ahead with him and his time with us will also benefit his spiritual walk!
We're also making plans for next months annual Easter weekend of events at the North west! Stay tuned social fans!
October 2016
Doesn't the year go in rightly! Nothing big to report except we're keeping our heads down and doing what we do best…socials!
One of our team is currently making plans to leave for Canada, so we will need some new help! See the photo below for details! That's all for now!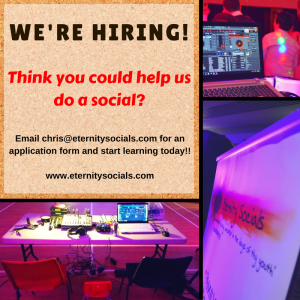 August 2016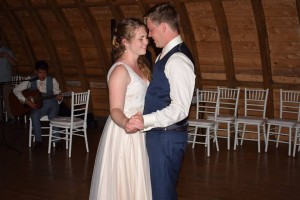 Well we're fresh back from Canada and boy what a party it was! We're really glad we went and would like to thank the families for having us over. Everyone was up from the word go in this mix of Newfoundlanders and "Norn Irish" people. We thoroughly
enjoyed it and if the folks enjoyed it half as much as us, then we can rest happy!
We made many new friends and found it a privilege to be included as guests on the big day.
Now we're filling out the diary for the remainder of the Autumn/Winter dates. We already have about 20 weddings in for next year which we're also really excited about but this is not down to our doing, this is where we give God the glory. Each good and perfect thing comes from Heaven above and that included our bookings. He has blessed us with 12 great years so far and it's only thanks to Him that we have made it thus far! Praise be to God!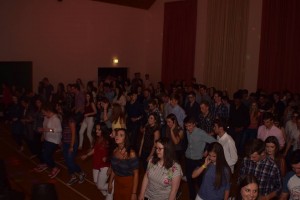 Also this month we ran the "New Horizon After Party" and for us, this is the biggest and the best party of the year! We had hundreds pack into the hall just outside Coleraine for a hyped up night full of the usual games and line dances. When 2:30am came we felt we needed to switch off the system or we'd never be home! A great night was had by all and we hope to see you back in the hall for Easter Monday 2017 God willing!
July 2016
Been a while since the last update but things have been fairly quiet! We were mean't to have our last open air there on Sunday past, however there was a power outage and this meant we had to cancel at the last minute, we had the Millbrook Band due to lead worship and Stephen Crawford to bring the word. We hope to reschedule these folks for another time!
We can however continue to pray that the little sound checking that we did to would even speak to hearts, the wee chorus' and even our scripture verse on the banner, the Lord can use it all!
April 2016
Well that's the Easter bant over for another year and we have the open air in the Summer to look forward to! Thanks to all who attended and to Andrew Thompson who put forward the gospel. We shall continue to pray that whose who heard will take heed!
At the start of May we'll be joining up with New Dawn for their "Big weekend" of youth events so check out the events page!
March 2016
Well we're full swing into 2016 and we have just added a new page to the website all about the music we play and why we play it. There's also a link to a Spotify playlist we have created, meaning you can take the great sound of the social out and about with you, where ever you are!
February 2016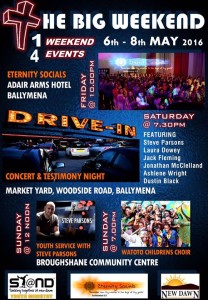 We're excited to announce that we're working along side New Dawn Fellowship in Broughshane with regards to an exciting weekend of youth events planned for the greater Ballymena area in May. You'll be able to hear more about this at our Open Air meeting detailed below, or via the "Events" page on the website. It'll include a social, a drive in event and a special closing meeting on the Sunday evening! As always do pray for this and spread the word to those who may want to attend!
We also have been putting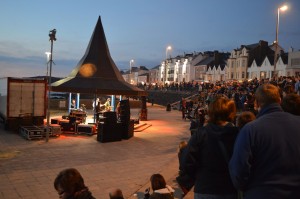 the finishing touches to our huge Easter Weekend containing three socials and our annual Easter Open Air Meeting! We're glad to have our brother in Christ, Andrew Thompson, sharing at the open air! It and the socials are events not to be missed! Do pray for us in this endeavour and that hearts will be reached and souls saved!
January 2016
Thanks to God's graciousness we have made it into another year, and what a year it's going to be! Nearly twelve years under our belt we are going from strength to strength. It's set to be our busiest year to date and we owe this to God and his goodness and provision.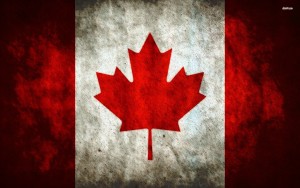 We have been booked this year to do a wedding in Canada, taking us on our most exciting adventure yet! Although it's not until August, there'll be a bit of logistics to sort when it comes to PA equipment, but we're very much looking forward to it!
December 2015
We have recently recruited a new member. David Mooney, who is 22, from Straid in Co. Antrim has been a Christian for many years, growing up in the Free Presbyterian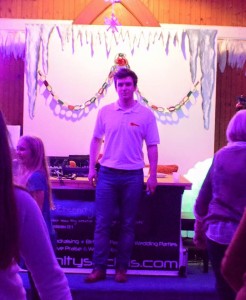 Church he now attends the local Congregational Church in Straid. Check out his page in the "About Us" section in the coming weeks to find out a bit more about him!
We'd like to thank David for joing us and our work and pray that he'll not only be a witness to others, but also can grow his own relationship with Christ through our events.
[custom-facebook-feed]